Projector & Screen Rental Singapore
It is a shame when a supposedly high-profile conference, meeting, or seminar utilises low-quality image projection in their event. You may remember being in such an event where the value of the meeting's content is greatly diminished or lost because of the use of poor quality AV equipment such as projectors and projection screens.
We Provide Projector and Screen Rental for Your Singapore Events
You need not invest in new equipment just to get the benefits of quality projectors for your functions. Availing projector rental in Singapore is a smart option.
Ivan and Levine provide the best-value projector and projector screen rental in Singapore. We rent out projectors and projector screens that will help make your business or personal events impressive and memorable for all your guests.
Whether you are organising professional conferences, seminars, conventions, or other fora, our projectors and projector screens can effectively facilitate your presentations. Our equipment can cater to the size of your audience, be it a roundtable discussion group or a hall filled with hundreds of participants.
Our projectors and screens are suitable for use in social events such as weddings, birthdays, anniversaries, and other occasions whether they are held in function rooms, restaurants, or other venues, regardless of the size. We have both high- and low-end equipment that can suit your needs and budget, all of the high quality.
High Resolution Projector Rental
We carry only top brand Epson and laser projectors available in ultra-short throw and short throw, and long throw projectors depending on image display projection and audience size requirements. Our AV professionals can expertly advise you on the most appropriate set of projection equipment suitable to your needs.
We have a wide variety of projector screens that can go well with the right projectors you select. A key driver of image sharpness and colour quality, our projector screens are available in different options for your specific functional requirements. There are projector screens with a tripod stand, pull-up front projection screen, and fast-fold projector screen, with adjustable height that can be used for front or rear projection and indoor or outdoor.
Our technical experts can offer free consultation on the specifications for the projectors and screens you will require. We offer complimentary delivery and installation and orient your staff on the proper operation of our equipment. We strive to provide the service you'll need to make planning and executing your event successfully with the use of our AV equipment.
Looking for Projector Rental in Singapore?
Let Ivan and Levine Entertainment help plan the AV side of your event. Our experience, technical expertise, and top-of-the-line projectors and projection screens can make a difference in your functions. You can avail of a single day, weekly, monthly, projector and projector screen rental in Singapore or even a long term lease with us. We offer one of the most competitive pricing in the industry.
For your next, corporate or private function, contact us. Our professional staff can provide you the guidance in the selection of equipment that will let you maximise the benefits from our projectors and projector screens.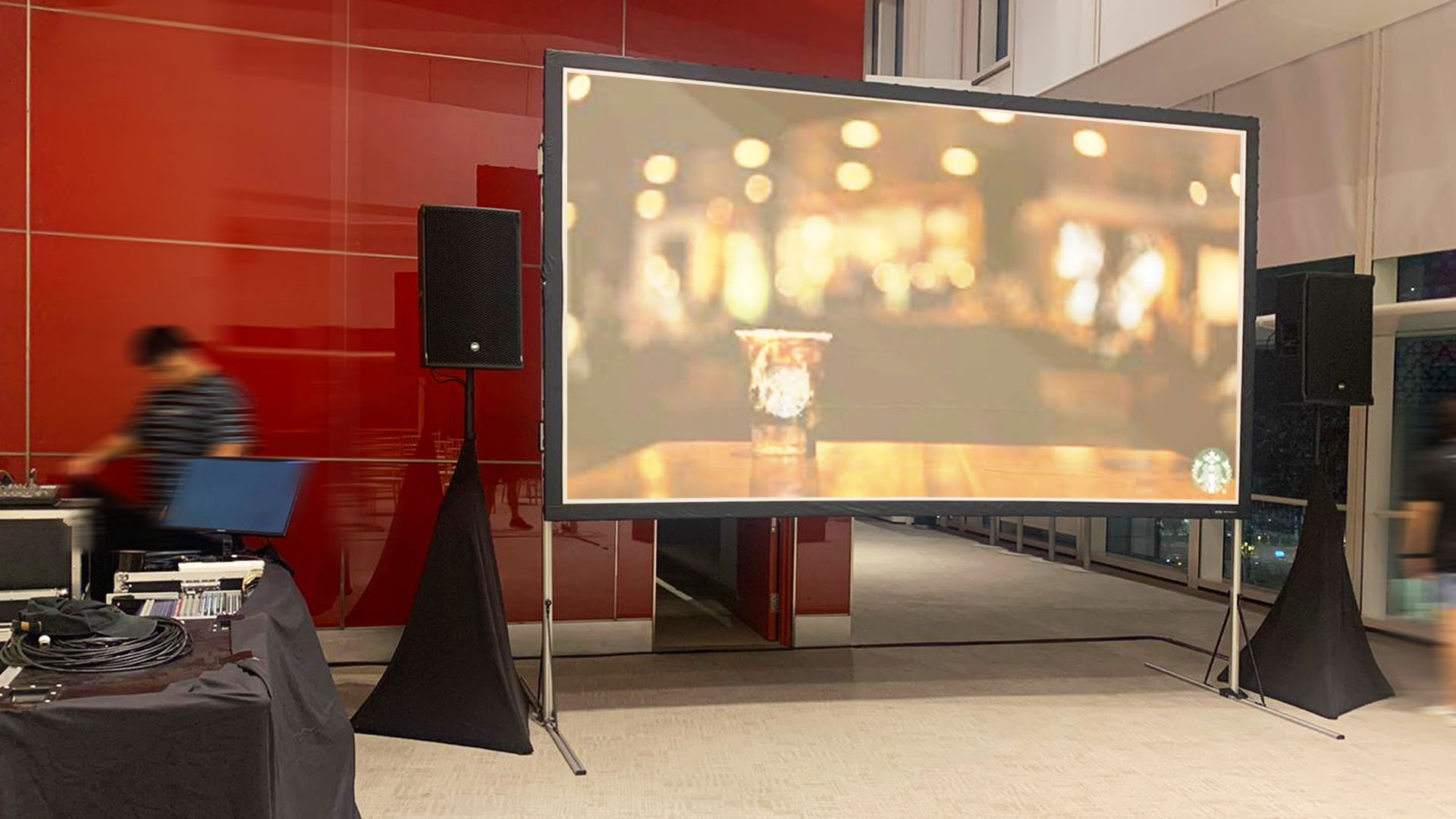 The Importance of Having High-Quality Projectors and Screens
In a professional forum event such as a conference, convention, or seminar, video projectors or screen displays represent one of the most essential equipment items. They are powerful visual aids that enhance the transfer or sharing of information along with the accompanying audio narrative.
The importance of high-quality projectors and screens cannot be overemphasised. Using them provides these benefits:
High-resolution images from single monitors to large screens, we provide solutions to fit any venue, video switching, signal routing and live feed.
We have provided projectors & screen rental services for numerous events. Let us advise you accordingly on the type of projector and size of the screen for your event:
Range of projector
Projector rental (5500 lumens) (WUXGA) Panasonic EZ590
Projector rental (10,000 lumens) (XGA) Panasonic DX100
Projector rental (12,000 lumens) (WUXGA) Panasonic DZ13K
Projector rental (21,000 lumens) (WUXGA) Panasonic DZ21k
Years Of Experience
0
Years
Number Of Successful Events
0
Events